The Evening Supplication (Du'a)
---
Arabic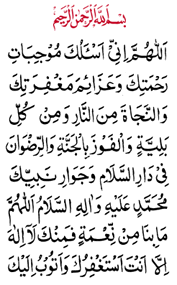 ---
Translation
In the Name of Allah, the Beneficent, the Merciful. I beg You, O Allah, the causes of Your mercy and intents of pardon and salvation from Hell and from all trials, Heavenly success and Your esteemed attention in the land of peace and from all trials and the proximity of Your Prophet Hazrat Mohammed (S.A.W.) peace be on him and peace on his progeny. O Allah, whatever talents I have got, it is but from You. There is no god but You. I beg Your pardon and seek atonement.
---
Home | Fundamentals of Islam | The Fourteen Infallibles | Important Muslims in History | Textual Resources
Articles | Daily Supplications | Islamic Web Sites | Islamic Organizations | Contact Us
© 2000 - Tawheed Institute Inc.- All Rights Reserved
Use of any materials from this site for publication elsewhere is strictly prohibited without the written consent of Tawheed Institute Inc.