The Night Supplication (Du'a)
---
Arabic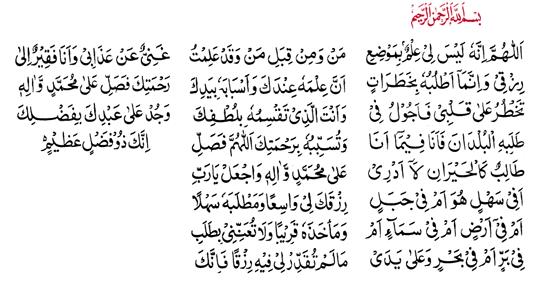 ---
Translation
In the Name of Allah, the Beneficent, the Merciful. O Allah, I beg to request You that I have no knowledge of the estuaries of my provisions and I no doubt seek it because of the uncertainties springing in my heart so I hustle about in the cities in seeking it. I be therein like a confounded seeker, not knowing either it is in plains or is it in mountains, either in the land or in the rivers, yonder anyone or before anyone, and I do know that You have its knowledge, its means at Your hands and You are the one awarding it by Your favor and executing it by Your favor. O Allah, peace be on Hazrat Mohammed (S.A.W.) and his sacred progeny, and favor me, O Lord, ever magnifying provisions, its seeking easier and its attainment nearer, and not strain me from tapping sources having no provisions therein for me. And You are over and above straining me, and I a beggar of Your favor, and peace be on Mohammed (S.A.W.) and his sacred progeny, and ameliorate me by Your favors. Verily You have abundant favors.
---
Home | Fundamentals of Islam | The Fourteen Infallibles | Important Muslims in History | Textual Resources
Articles | Daily Supplications | Islamic Web Sites | Islamic Organizations | Contact Us
© 2000 - Tawheed Institute Inc.- All Rights Reserved
Use of any materials from this site for publication elsewhere is strictly prohibited without the written consent of Tawheed Institute Inc.